Written by Lesley Mitchell-Clarke
Category: Pot Pourri
Published: 28 November 2016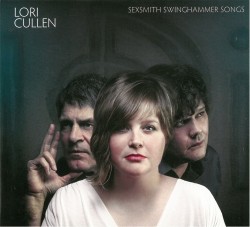 Sexsmith Swinghammer Songs
Lori Cullen
True North Records TRD618
(loricullen.com)
Contemporary jazz/pop vocalist Lori Cullen's latest release is an appealing and innovative project that is the result of an inspired collaboration between Cullen herself and two noted musicians – composer/guitarist Kurt Swinghammer and composer/lyricist Ron Sexsmith. It was Sexsmith who first suggested to Swinghammer that they write an album together specifically tailored for Cullen. The 12 tracks on the CD all feature lyrics by Sexsmith and are rife with Swinghammer's carefully placed stylistic elements of the artists who defined the fertile pop eras of the 1960s and 1970s, including tips of the hat to Burt Bacharach, Jimmy Webb and Antonio Carlos Jobim.
Produced by bassist Maury Lafoy (who appears on the project), the musicians also include drummer Mark Mariash, keyboardist Robbie Grunwald and Swinghammer on guitar. Although Fender Rhodes and guitar are central to the instrumentation, the compelling, acoustic arrangements by Swinghammer also involve an array of diverse instrumental contributions, including finely crafted enhancements on trumpet, trombone, oboe, clarinet, vibraphone, marimba, English horn, recorder and more.
Cullen's angelic voice wraps itself around each sumptuous melodic line and every composition has been constructed to highlight her superb, crystalline vocal instrument and intuitive knack for delivering frank emotional content and a quirky lyric. Memorable tracks include the gently swinging and faintly ironic The Face of Emily, which features a lush vocal arrangement, and the groovy, lighter-than-air bossa nova, New Love. Atrue gem is the heartrending duet between Cullen and Sexsmith, Off Somewhere.
This thoroughly pleasing and unabashedly romantic recording is a triumph for all three of these gifted artists and a stunning example of creative, musical symbiosis.